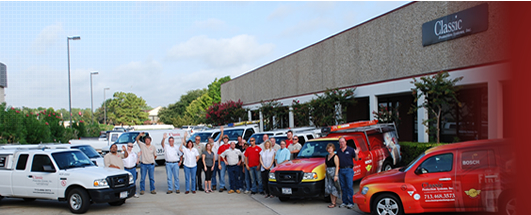 It is our mission to become a leading provider of commercial fire alarm equipment by providing a quality product line, first-rate and affordable customer service.

Classic Protection Systems, Inc. (CPS) is a family owned and locally operated, fully licensed, NICET certified company. Classic is a fully insured fire alarm, extinguisher, access control/CCTV, electronic lock, CCTV/surveillance camera and digital video recording company, servicing Houston and all surrounding areas from Bryan/ College Station to Huntsville down to Galveston county. Our specialized fields include: servicing, installing, inspecting and maintaining most brands of fire alarm systems for all your tenant build outs and new construction projects needs.

We are a factory authorized Platinum distributor of Gamewell-FCI (Fire Control Instruments) and Commercial Products Group. Our technicians are also very experienced with Notifier, Fire-Lite, Silent Knight, Autocall and Honeywell fire alarm systems.

Classic is also proud to be a distributor of Casi Rusco DSX Access Control Systems, a very advanced/expandable windows based system using the most advanced technology. This system uses HID cards with swipe or prox applications. Plus our techs are knowledgeable with most card access systems for service or expandability needs.

Classic Protection Systems, Inc. is one of the first fire alarm companies to offer and install total low voltage surge protection for fire alarm, access control and CCTV systems. For more information click onto our Service page and choose Eclipse Surge Suppression.

Classic also offers a variety of fire alarm, access control, CCTV, electronic lock and surge suppression devices from leading manufacturers. Our onsite engineering staff can layout and design systems or is available just for free consulting needs.

Classic Protection Systems, Inc. utilizes a 24-hour U.L. listed monitoring company and monitors over 550 fire alarms systems in the Houston and surrounding areas.



Member of ACOE (Association of Chief Operating Engineers)
AHMA East Texas members manage over 25,000 units of quality affordable housing in the East Texas area.
Houston Building Owners and Managers Association (BOMA) is the premier network of more than 600 commercial real estate professionals representing more than one hundred million square feet of commercial real estate in the Houston area.
A highly targeted database of national and regional manufacturer websites organized by the industry's CSI divisions.
The leading advocate, resource and community partner for quality rental housing providers in Houston and surrounding areas.

National Fire Protection Association
1648 W. Sam Houston Pkwy N.
Houston, TX 77043
Phone: 713.468.3573
Fax: 713.468.3721